The Sill
Wrapped in thought, she starts to paint in the corner of the room, in the Sill
At the Beach
Pastel on sanded paper, beautifully framed. e glass, double matted.
Sh's seeing the beach, the ocean and beauty for the very first time.
"Who the Sheep See", 36 x 48 original, FRAMED
Beautiful frame, designer exotic wood, double matted. Original painting on sanded pastel paper. $7500
Waiting for Momma
As son as Momma is home- the dancing begins !
In the Field
Workers in the field- amongst the golden wheat
Looking for Mary
This little Lamb- is setting out looking around the barnyard for company.
Into the Breech
Sea turtle- awaiting the plunge into his new world.
Available as giclee print or as original in custom frame and museum glass.
My Mother was a Cow
If you have ever lived near these animals, you know how sweet they are. These have a sense of humor as well.
Pirouette
She uses the beach as her dance floor, the waves are her audience. No fear of rejection, only excitement for what may come.
Available as original UNframed OR as giclee print multiple sizes
2 Pigs in Peonies
Joyful pigs relish the findings of the flowers
The Conversation
A Grandpa discussing kids with a young dad.
Leopard's Eye, SOLD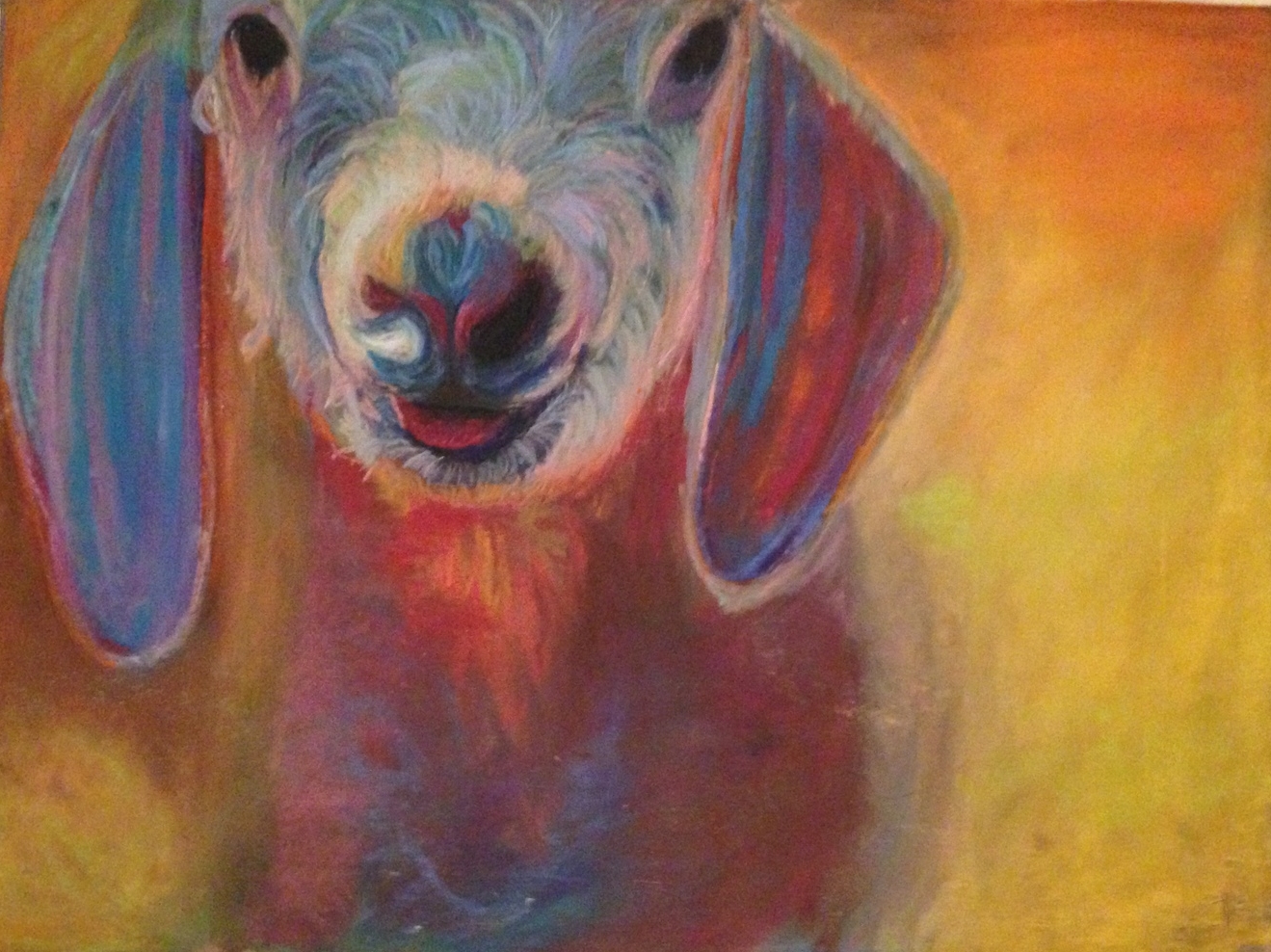 The Kid, framed
18 x 24 original pastel on sanded paper. Matted, designer frame (white distressed wood), museum glass. $5500
Mr Sandman
Running along the Beach, this fun little bird is standing on one leg prepping for sleep.
In the Gulf
Lovely Day brings lovely color on the Gulf of Mexico
The Young Fisherman
Always ready to fish, the sun is setting behind him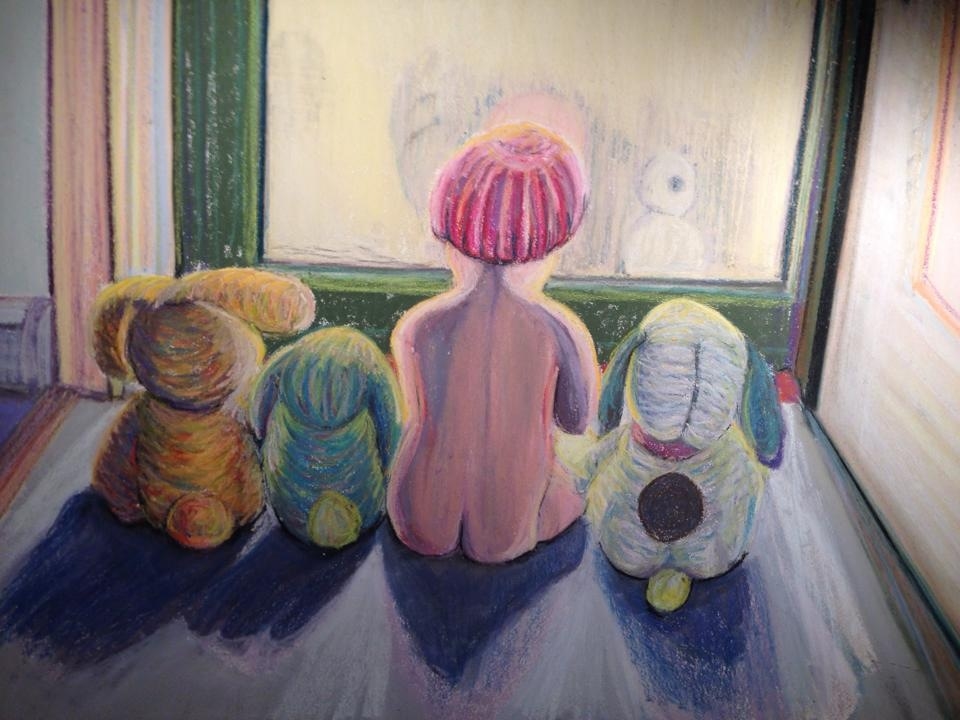 Who the Friends are Waiting for, FRAMED
24x36 original on pastel board. Designer frame (emerald green), double matted, museum glass. $7500
King of the Hill
ON a warm fall day, they head up the hill. Friends, siblings, forever.
Solar Solace ORIGINAL SOLD
On the Island
She is discovering the beautiful hills of an island- but never too busy to pose.
YOUNG WINGS
18 x 24 original pastel on paper framed with museum glass, beautifully matted. $5000.00
Mother and Daughter, Prints available, original SOLD
"Whiskers", 18 x24, Original Unframed
Colorful face of a cat pastel painted on sanded art pastel paper. Original $1200
Parading SOLD
The Flower Girl
Surrounded by color, its almost impossible not to pick one.
YOU TALKING TO ME ?, 11 x 14 Original FRAMED
Original framed custom frame, double matt, museum glass.$2000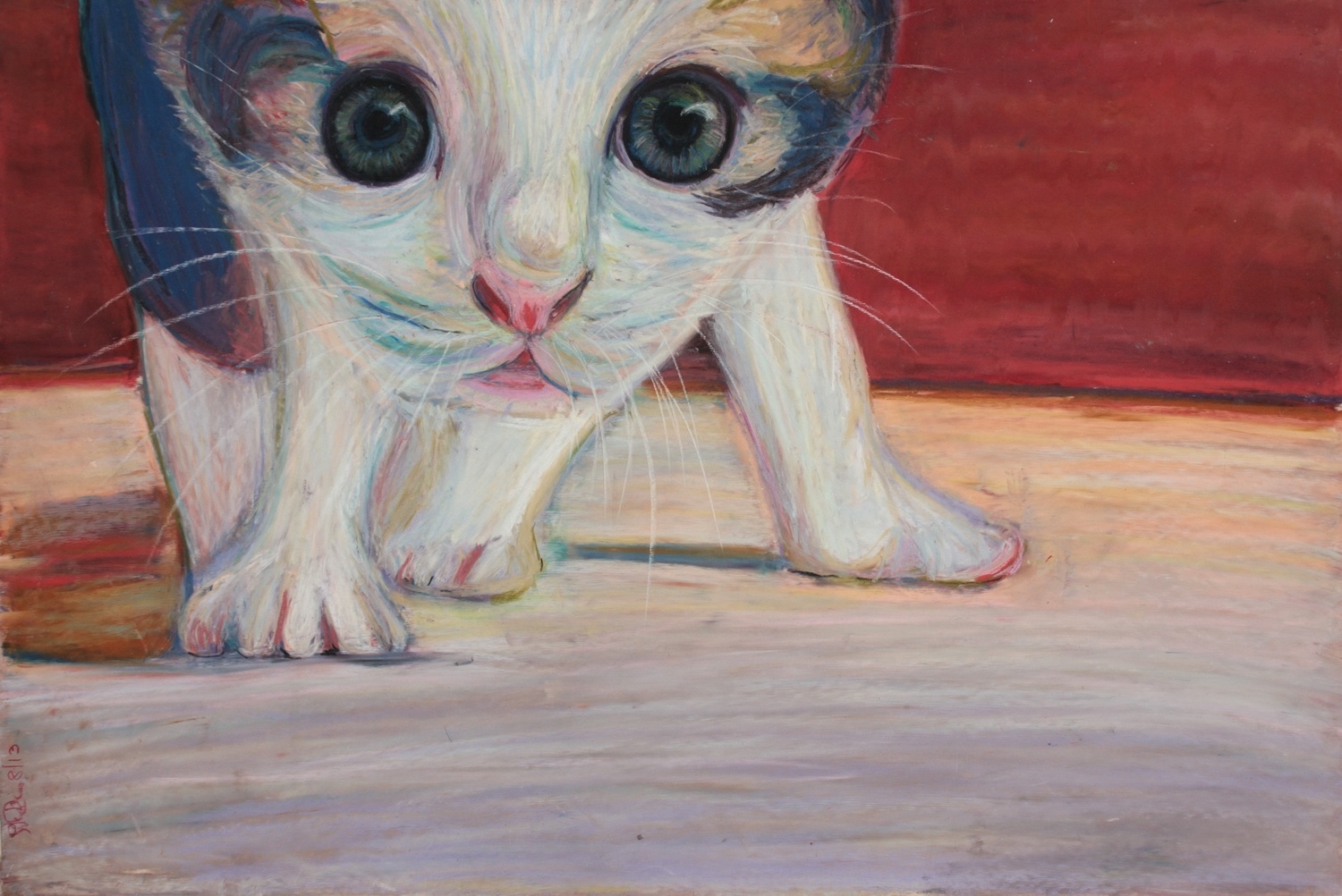 What the Kitten Did, FRAMED
36 x 48 original painting on sanded paper. Double matted, gorgeously framed, museum glass. $ 3500
Whispering on the Boardwalk, 18 x24 original FRAMED
18 x 24 original pastel on sanded pastel paper. Framed with designer stressed wood frame with double matt and museum glass.INQUIRE